WESEF 2023 will be held on Saturday, March 16th, 2024
at Somers High School
120 Primrose St, Lincolndale, NY 10540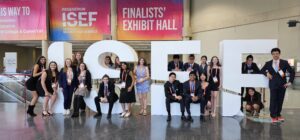 We are hoping that medical and mental health professionals, biochemists, pharmacists, engineers, environmentalists, veterinarians and computer scientists will volunteer to watch students present their research via poster at our annual science fair. The top winners will represent our region at the Regeneron International Science and Engineering Fair.
Please consider judging and/or passing this on to a friend or colleague.
Need more help with registering? Here are two links to additional instructions: 
Summary of Judge Registration Instructions
Detailed Judge Registration Directions
Judge Qualifications…
Currently enrolled in a graduate program (M.S., M.A., M.Ed, D.O., Ed.D., D.D.S., D.V.M., Ph.D, M.D, etc.) 

OR

Bachelor's degree + 2 years of job-related experience    

OR

Current or retired professional holding an advanced degree and/or experience working in any of the scientific fields represented at WESEF. This includes school psychologists, social workers, registered nurses, EPA, DEA professionals, etc.

NOT eligible to judge:
The WESEF 2024 schedule will be announced but here is an overview of the schedule from last year.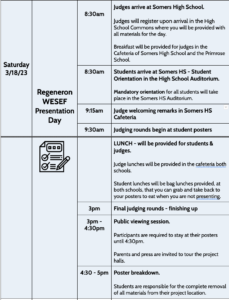 Basic Information:
A light breakfast and catered lunch will be provided
Each judge will receive a 'thank you' gift from WESEF
The judging rubric is available in the "For Judges" section of the wesef.org website
The Judging Process
Projects will likely have 3-5 official judge interviews. The students should be prepared to give a seven minute uninterrupted summary of their research. Judges are then permitted 5 minutes for Q&A. 
There will be official judging periods, indicated by a tone which will signal the start and finish of each judging session.  Judges will then have a 5 minute window to score rubrics and move to the next presentation.  
Judges will submit rubrics electronically using their cell phones. PLEASE BRING YOUR PHONE FULLY CHARGED so you are ready to go.
In some cases, Special Awards Judges will also meet with and interview students.
Under no circumstances should a Judge review a student project for which there may be a conflict of interest.  Judges are asked to recuse themselves from any projects where they do not feel they can fairly assess a student project.