WESEF 2024 will be held on Saturday March 16th, 2024 and the Awards Ceremony will be during the evening of Thursday March 21st, 2024.  Please ask your students to save these dates!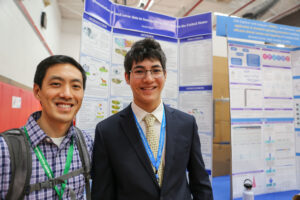 WESEF Registration:
We will continue to utilize the online science fair organization, www.wesef.zfairs.org, for WESEF 2024. We will be using zFairs for teacher, student, and judge registration as well as for turning in all student paperwork. Before your students can register, you will have to register on our customized, zFairs website.
The basic timeline for student registration for the 2024 Regeneron WESEF is as follows:
WESEF TEACHER registration opens November 14th 2023. Teachers must register first and then work directly with their students to register them one at a time. Students should not register on their own.
WESEF STUDENT registration

and all paperwork/forms

must be complete by

December 8th, 2023

.
Please use the link provided directly to teachers to access the student registration; all students should register with assistance from the teachers.
Teachers Review Student Paperwork in zFairs must be completed by December 15th, 2023. N

ew this year, we are providing teachers with a window to carefully review student paperwork from

12/08 – 12/15/2023.


Please review every single document that has been uploaded by your students, checking that 1) the correct form has been uploaded, 2) the form is complete and accurate, and 3) the form has all required signatures.

ALL PAPERWORK must be submitted online.
WESEF Check/purchase order and school registration list must be postmarked by 12/15/2023. See invoice for details.
WESEF extended material (optional deadline extra $100 fee) due 1/15/2024 – only available to those that indicated on the online registration that they would be taking advantage of the "extended deadline" and have sent in the inital paperwork along with the $60 regular registration and the $100 "extended deadline" fee by 12/15/2023.
The VIDEO TUTORIAL FOR TEACHER REGISTRATION is here.
WESEF Payment
It is essential that you ONLY register students that you are very confident will be ready for WESEF with consideration of all of the rules and restrictions listed above in the Registration/SRC section.
The cost will be $60 per student for the regular deadline submission of all materials (12/15/2023). Fee is non-refundable regardless if a student drops or is disqualified (due to student or teacher error).
Any project that opts for the extended paperwork deadline must submit a total payment of $160 ($60 for regular deadline + $100 extended deadline fee) along with forms 1, 1a, 1b and research plan by the regular deadline (12/15/2023) and then will submit their paper and abstract by the January 15th, 2024 deadline. The extended deadline fee is a per-project fee, meaning individuals and teams both would pay the $100 if seeking the extended deadline. However, a team of two would only need to pay an additional $100 (combined) if they opted for the extended deadline.
Please plan ahead if your school/district will pay with a purchase order. There is usually a major delay between a request for payment (PO) and when the check is written. Final payment for purchase orders in the form of a school-issued check must be postmarked NO LATER than January 15th, 2024.
Make all checks/purchase orders payable to "WESEF"
Send check(s) to:
Stephanie Peborde Burke
WESEF Treasurer
PO Box 1373
Yorktown Heights, NY 10598

Student Paperwork/Forms Upload
Instructions for WESEF Paperwork Upload

Judge Recruiting:
We appreciate your effort to help WESEF increase the number of judges we can recruit to match the increasing number of student participants. If you know any individuals who would be interested in volunteering to support our students as a judge, please review the judge requirements on our judges page.
Judges can register by contacting our judge coordinator at [email protected].